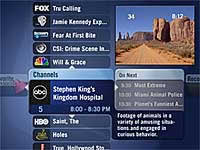 Samsung have jumped into bed with Digeo – a leading provider of media center software and services – and announced a deal to produce the next-generation Moxi II Media Center product family.
The companies are claiming that the new family of Samsung Home Media Center products will rival the features of personal computers designed for living room entertainment centres.
The Moxi II Media Center, scheduled for release in the autumn, will combine the functions of an advanced video recorder, jukebox, photo viewer and Internet telephone in a single unit (although cable providers will determine the exact feature set).
The boxes will sport four TV tuners (for recording multiple shows at once and/or feeding multiple live TV streams to satellite Moxi Mini boxes around the house) with enough onboard storage to record up to 40 hours of high definition programming.
There's also support for Voice over IP for making and receiving calls (Moxi's current Moxi Telephone app can only manage and receive calls).

US cable companies Charter Communications and Adelphia are set to be the first two cable companies to start dishing out the boxes to customers.
"We are pleased to be bringing powerful media center technologies to market with Digeo," purred Gee Sung Choi, president of Digital Media Division for Samsung Electronics.
"Our Home Media Center solution launching this fall will be our marquee cable product, setting new standards for operators by delivering unprecedented, highly valued media center services and applications throughout the home."
The new units will use the sci-fi sounding Digeo X-Stream chip set, a smart little fella that incorporates a chip that integrates several functions previously handled by multiple chips.

The cost-reducing chip will also offer improved graphics performance with Digeo cranking up the speed of the microprocessor from 733 megahertz to 1 gigahertz.
"The first product … is the first in this family," said Michael Markman, Digeo's senior director of marketing. "But the architecture, the design will allow for much further growth."
Cable box makers face mighty mean competition from PC companies knocking out entertainment PCs running Microsoft's Windows XP Media Center Edition. The latest PC models also support multiple-room viewing as well as HDTV.