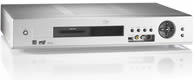 Pace Micro Technology, a cutting edge UK digital set-top box provider tasked with developing emerging technologies across all television platforms, has trumpeted the launch of a number of STB's and PVR's, including the Laguna DC551HD and DC 501 Chicago all-digital set-top box.
The Laguna DC551HD is a high definition set-top box (HD STB) that comes with HDMI as standard. HDMI is being insisted on by many content owners as the means of interconnecting HD equipment, ensuring the content remains encrypted as it passes between devices, in an effort to reduce unauthorised content copying. It also boasts support for an optional 1394 5C protected interface to let people move content from the box – in a controlled fashion, of course.

Pace is also offering the Tahoe DC775 HD-DVR, claiming it to be the most advanced high definition DVR for North America, and the first cable set-top box to offer features based on next generation silicon. Interestingly it offers a number of ways to save video content to the 160Gb hard drive – Standard Definition (SD), High Def (HD) and enhanced analogue. With multi-room video distribution and support for high-speed data connections for home computers, wireless routers and VoIP included you might be wondering what isn't included.
The 'Chicago' set-top box is an all-digital device with a common platform designed to operate on North American cable networks and the Chicago DC 501 claims to be the most powerful standard definition, all-digital box available, boasting an industry leading MIPS processor and it's also the first in the industry to offer DSG and OCAP support as options.
Consumers burdened with Ye Olde analogue televisions won't have to miss out on the digi-fun either as the box can hook up to such near-Neanderthal devices.
The Chicago DC 501's innovative design allows the set-top box to stand vertically or lay horizontally, with a cunning infrared (IR) receiver extender allowing the box to be mounted remotely on a wall or discretely hidden away.
Pace Americas' President Michael Pulli spun out the spiel, "We're in a unique position as the only set-top box provider with licenses and technology to deploy boxes on all types of cable TV networks. This underscores a major part of our long-term strategy for the North American market, which is to develop set-top box solutions with a common platform that can easily be deployed on any network."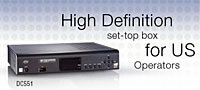 Pace Americas' VP of Technology Chris Dinallo had clearly feasted on a diet of buzzwords before adding, "All-digital and digital simulcast are critical industry initiatives, and uniquely, Pace is proud to be the only set-top box provider that can support all-digital on both networks."
"All-digital networks allow entertainment and communications to flow easily across many devices. Consumer demand, better picture quality, spectrum efficiency, competition, and the ability to offer more revenue generating services are all driving cable operators toward all digital," Dinallo added.
The Chicago DC 501 is the first in a series of Chicago all-digital boxes to be released this year.
Other model announced include (ready for this, deep breath …) the Daytona DC755HD, Indiana DC511 and some further details on the PVR2Go, a Personal & Mobile Entertainment Device.