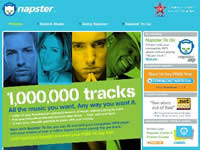 Napster UK has teamed up with Channel 4 to broadcast a short series of live TV music shows, creating the first national terrestrial television programme to be run by a digital music service.
Napster UK has announced the deal to broadcast the predictably titled "Napster Live", which will take the form of six 11 minute programmes featuring "established and emerging acts".
Each episode will serve up an exclusive performance of two songs by a featured artist, along with an interview, biography and the all-important competition spot.
The programmes are being put together by independent television production company Blaze TV (who also knock out the weekly music show CD:UK).
Included in Channel 4's 'T4 Youth and Music' programming, the first show will be screened at midnight on Saturday April 16 and feature rock band Garbage.
Other acts so far confirmed for Napster Live on Channel 4 include MOBO-winning UK R&B artist Estelle and UK rockers The Subways.
Napster Live already exists on the Napster digital music service as audio-only recordings, but the TV show will showcase a new format produced exclusively for Napster and Channel 4 by Blaze TV. Music from the TV show will be made available online at a later date on the Napster UK service.
"We're incredibly excited to be teaming up with Napster on what feels like a truly unique and exciting proposition for 4Music," frothed Neil McCallum, Commissioning Editor, T4, Youth & Music. "The bands booked are exactly the sorts of artists we've been supporting and this allows us to capitalise on bringing even more live music to a wider, up-for-it audience."
"To extend the Napster experience to television is the logical next step in the UK roll out of the biggest brand in digital music," purred Leanne Sharman, Napster vice-president and UK general manager.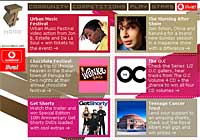 Building up to a crescendo of mutual backslapping, Sharman added: "Channel 4 has a deserved reputation for groundbreaking and forward-looking programming as well as championing live music, so we're delighted to make our TV debut on their platform. Napster is also extremely fortunate to have a partner like Blaze TV whose production skills, expertise and contact book have proven invaluable in creating this series."
Not one to miss out on the quote frenzy, Conor McAnally, Blaze TV director of programmes, offered this insight: "In a world where the production and consumption of music are changing so drastically and so rapidly we are delighted to be involved with the market leader in music digital downloading and to have been given the opportunity to create exciting new programming for Channel 4 whose commitment to music, and especially new music, is unparalleled in the UK".
Although eleven minute pop music programmes are hardly going to change the face of modern TV, Napster's move reflects the inevitable convergence between online and terrestrial TV, with download charts already hitting the mainstream.
The series will be broadcast every Saturday night on Channel 4 from April 16, 2005 for six weeks.