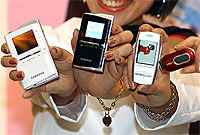 Until now, Apple has been pretty safe in its position of master of all digital music players. That's lead to speculation of their crown slipping. We're fresh back from the European consumer show CeBIT and saw many, many good looking, highly functioned, portable music players there.
The Far Eastern companies that've been building digital music players for the Western companies have learned a few tricks. Not content to just been passivley manufacture, they have discovered design and embraced it. In our view they have what is needed to go toe-to-toe with Apple.
In addition to that, Korean electronics giant Samsung has launched a hefty push into the highly competitive MP3 player market with six brand-spanking-new players.
The half dozen new players should be available in the first half of the year, ranging from a 256 megabyte flash memory type to a 30 gigabyte hard disk drive model capable of holding about 7,500 songs.
The pocket-sized players will sport colour screens and radio tuners, while some will allow users to watch music videos or take digital photographs.
The company has vowed to grab a giant sized slice of the highly lucrative market within in the next two years.
Samsung sold 1.7 million MP3 players last year, and is the market frontrunner in China. Mindful of expanding its presence, the company said it will focus on products that go beyond the basic flash and hard-disk categories and include products that target the premium, fashion and video-enhanced market segments.
In other words, they're going to try and outflank Apple by stuffing their players full of multifunctional and multimedia gizmos that allow users to play electronic games, watch music videos and movies, and view digital photographs.
We've no doubt that these players will be lovely little fellas, but whether they'll be capable of overcoming the sheer market presence and all-round design quality of Apple – and more recently Sony – is open to question (Sony's shift to open standards, switching from its proprietary ATRAC music format to MP3 is a highly significant development).
Both Apple and Sony have branched out into music delivery solutions and it remains to be seen whether a hardware-only product will have enough clout, 'cool' and interconnectivity to unseat the market leaders.
After all, with zillions of options available to consumers, it's vital for music device makers to offer shedloads of connectivity with other hardware, along with easy access to the content.