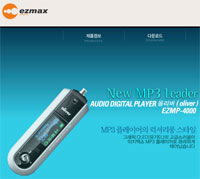 MP3 playing device includes software for sending and receiving Internet-based phone calls.
Cackling wildly at iSuppli's recent analysis that consumers don't like MP3 players stuffed with extra gadgets, Ezmax of South Korea has announced a gizmo-tastic MP3 player that allows users to make and receive telephone calls using VoIP (voice over Internet Protocol).
The South Korean company says that their EZMP4200P player will contain software allowing users to make VoIP calls when the device is linked to a web-connected PC via a USB 2.0 port, using a microphone incorporated in the device's earphone cord.
Ezmax's director, Lee Sung Soo, explained that a player plugged into a desktop or notebook PC will appear onscreen as a removable disk icon. Double clicking on that puppy will launch the dialling software, enabling the user to make calls on the MP3 player-cum phone.
Users need to sign up with a VoIP provider before they can start getting chatty on their device. The company is currently talking to providers in South Korea, Germany, and other European countries to ensure compatibility with their networks.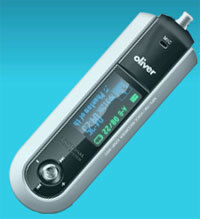 Ezmax demonstrated the device at their stand at CeBIT, plugging the player into a notebook PC and successfully making a call via the VoIP dialling software.
We imagine the gasps from onlookers were either a sign of amazement or an expression of extreme bafflement as they – like us – pondered over the usefulness of an MP3 player that has to be plugged into a laptop to make a call.
Software for the EZMP4200P (doesn't that just roll off the tongue?) is presently compatible with Windows 2000/XP, with Ezmax claiming that Mac OS X compatible software will be ready sometime in the 'near future' so don't go throwing your iPods away quite yet Mac-fans!
The flash memory-based device is 2.8 inches long, 0.9 inches in diameter, and weighs 0.8 ounces without the AAA-size battery.
As well as MP3 music files, it can playback formats such as WMA (Windows Media Audio), ASF (Advanced Systems Format), and Ogg and comes with a built in FM radio.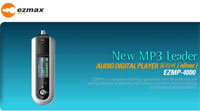 In addition, the device is capable of voice recording and sports a two-colour (blue and yellow) 128 pixel by 64 pixel OLED screen.
The EZMP4200P should be launched in May and be available in three models, each with a different storage capacity: 256MB, 512MB, and 1GB.
The added VoIP software adds about US$8 (£4.25, €6) to the price of the company's non-VoIP capable devices. Prices for the EZMP4200P will be about US$150 (£78, €112) for the 256MB model and about US$220 (£115, €165) for the 1GB model, the company says.