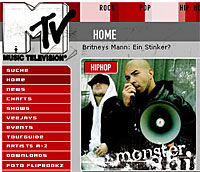 MTV in Germany has been demonstrating an interactive TV portal that combines satellite and broadband services.
The interactive portal will shunt a veritable cornucopia of personalisation and revenue-boosting options to customers, including games, news and the latest pop-tastic charts.
A deal with T-Online will also let annoying teenagers download the latest cray-zee ringtones for their mobiles, with the option to download extra goodies like wallpapers and song downloads from the comfort of your armchair.
There are also plans afoot to provide interactive voting and advertising, as well as offering access to video-on-demand archives.
Content and links to the interactive television services will be transmitted via satellite, while a broadband connection will be used to deliver specific items requested by the user (viewers will need an MHP compatible satellite receiver with broadband access to take advantage of the service).
The service was showcased at the CeBIT trade show in Hannover and MTV intends to introduce the service as soon as suitable receivers are available in retailers.
"Being the first to offer this interactive TV technology, MTV has once again confirmed its leading role in the field," beamed Catherine Mühlemann of MTV.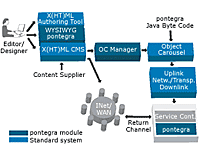 MTV is using Alticast for the technical implementation and broadcast of the interactive service.
The company will be using Nionex´s HTML-based pontegra platform, which acts as a browser supporting a fully compliant subset of DVB-HTML, OCAP 2.0 and ACAP-X.
Pontegra's open-ended concept makes it suitable for all kinds of iTV services, with the company claiming it to be the "iTV platform par excellence for all kinds of iTV services as EPGs, iTV-portals, T-commerce, voting and polls, interactive TV shows and commercials, community functions such as email and chat, etc."