Skype is proudly trumpeting the fact that more than 1,000,000 users have subscribed to SkypeOut, their premium service offering global calling to PSTN numbers for local rates.
This makes Skype the 1000lb gorilla of the VOIP-category product, worldwide.
"We're thrilled about Skype's growth and credit support from users who have told their friends and family about the cost and quality gains they've found with Skype," cooed CEO and co-founder Niklas Zennström, speaking from the CeBIT tradeshow in Hanover, Germany.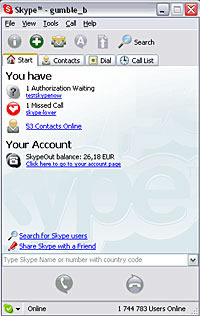 "Our one million SkypeOut users prove that savvy consumers will pay for value – and we will continue to delight users by delivering the software and services they seek to realize the potential of modern communications."
Describing themselves as the 'fastest-growing global communications tool in history', Skype have got a shedload of facts to back up their claims: the company now boasts more than 29 million registered users and they're adding more than 155,000 new users per day.
At most times, 2 million people are simultaneously using Skype to connect with friends, family members and colleagues and 'Skypers' have now talked for approx six billion minutes.
The company intend to hang on to their numero uno position with soon-to-be-announced new premium offerings and enhancements to the basic free service.
Hotly anticipated is Skype's new voice messaging service which is currently in beta trial with pundits expecting an April roll out.
New information on Skype's website has the pricing details:
"The price for Voicemail is 5 Euro for a 3 month subscription or 15 Euro for a 12 month subscription. If your billing address is in the EU, you will be charged 15% VAT when you purchase a Voicemail subscription. Therefore the prices will be €5.75 (US$6.70/£4) for 3 months and €17.25 (US$20/£12) for 12 months. However, a Voicemail subscription comes free with purchase of a SkypeIn number!"
There's also a new section in the Skype knowledge base describing SkypeIn, the forthcoming additional pay-for service where you can get a phone number and people can call you (similar in concept to what rival Telcos offer).
Skype have also stated their commitment to expanding platforms beyond the Mac, Linux, Windows and Pocket PC platforms currently available, although there's been no indication of a Palm release (a source of much wailing and gnashing of teeth in the Palm community).