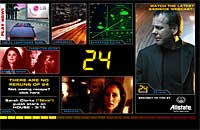 Unlike the creative whirlwind that accompanied the dot.com explosion, innovation seems to be a lot slower in the 3G content market.
Limited by strict marketing and corporate product strategies, 3G owners haven't exactly had a lot to shout about when it comes to mobile content.
Although watching tiny video clips of goalmouth action has a certain appeal (particularly when it's Cardiff City doing the scoring), all of the networks seem to be offering much the same collection of services.
Predictably, there's already been many lucrative tie-ins with popular TV shows.
Fans of the teen soap Hollyoaks were offered daily MMS picture slide exclusive stories and Celebrity Big Brother fans could download "behind the scenes" shots, updates and summaries of the show.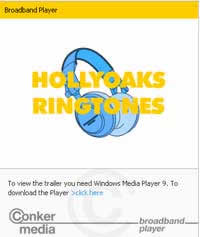 ITN news got in on the act too, supplementing their mobile news updates with "today in history" style clips trawled from their vast video archives.
Perhaps Vodaphone's 60-second "mobisodes", based on the hugely successful '24' series was one of the more successful TV offerings on 3G, with scenes written and shot exclusively for 3G.
All twenty-four instalments of '24: Conspiracy' ran for sixty seconds with a cliff-hanger ending leading directly into the next instalment, thus keeping consumer's fingers hovering over the 'download video' key.
"Joel Surnow, Bob Cochran, Howard Gordon, Kiefer Sutherland and their entire creative team have built '24' into one of the world's leading television brands. It's incumbent upon us at the studio to continually develop new initiatives to service, enhance and extend that brand," commented Twentieth Century Fox Television President Gary Newman.
"The '24' mobile series and the licensing and marketing partnership with world wireless leader Vodafone are truly unprecedented in our business, as they capitalize on the absolute latest in technological innovation and represent a whole new way to reach our fans and promote the original television series."
So far, almost all the 3G content has been linked to a TV show or brand and mobile consumers seem to value the exclusivity of such content.
While this kind of cross-platform repurposing of content appeals to opportunistic TV stations looking for additional revenues, for the mobile platform to flourish as a medium in its own right, it needs content that exists in its own right.
We'll take a look at what kind of ideas are bubbling up in part 3.