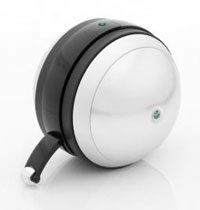 Straight out of the Billy Bonkers School of Barking Inventions, Sony Ericsson's new Bluetooth controlled camera, ROB-1, lets users steer a wheeled camera around using the joystick or keypad on a mobile phone.
The yo-yo shaped device can rove around for a distance of up to 50 meters from the user, sending back a streaming video to the phone's display.
Images can then be captured on the phone in the usual manner.
Eleven centimetres in diameter, the roaming ROB-1 can move forwards, backwards, look around corners, pivot on the spot or tilt the camera 70 degrees upwards and 20 degrees downwards.
The device's three wheels and spherical shape make it an agile and flexible fella, with clever camera technology offering a wide field of vision.
The ROB-1 also features an ultra bright light on the front allowing shots to be taken in dark spaces.
The perambulating picture-taker comes with ample onboard memory, capable of storing lots of photos. These can then be uploaded to the user's phone or transferred to a PC via the supplied USB cable.
Our darkly twisted minds can't stop coming up with so many dodgy, dangerous and downright illegal uses for this sneaky, swivelling, straying camera that we'd best let Ulf Persson, Corporate Vice President and Head of Accessories for Sony Ericsson, give us the squeaky clean version:

"This is a great gadget for people who really like testing the latest technology first hand and having fun with new applications. Just like the Sony Ericsson Bluetooth Car which appealed to a wide range of gadget fans, we believe that ROB-1 will become the 'must have' Bluetooth gadget to show off to friends and family!!
The Bluetooth Motion Cam ROB-1 will be available during Q3 2005.