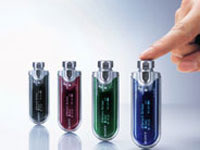 Apple Computer shares dropped Tuesday as Sony relaunched its famous Walkman line amongst concerns that increased competition from Napster might impact its dominance of online music and portable players.
The soaraway success of the iPod music player has transformed Apple's balance sheet and its stock price, with the company shining as one of the best performers in the Nasdaq technology index over the past year.
But some industry pundits are predicting that Apple is being damaged by serious competition from a new generation of smaller, sleeker and cheaper MP3 players from the likes of Sony, Rio and Creative and a host of online music services led by Napster.
Shares of Apple have dropped 8.5 percent since the announcement of the stock split on 11 February, and have fallen some 6 percent this week alone.
"Competition concerns are certainly going to influence how this stock trades," said Warren West, principal at Philadelphia-based GreenTree Brokerage Services, which executes trades for institutional investors such as asset managers and hedge funds. "Investors in general have enjoyed the stock moves, there's a lot of money that has been made, and people are going to start taking profits _ especially after the split."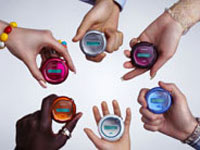 Over the last twelve months, Apple's share price has gone from US$23 (€17/£12) to an all-time high of US$81.99 (€61/£42) just before the split was announced.
Investors must now decide if the company's share price can maintain its strength in the face of a market getting becoming increasingly crowded with rival products.
Sony are aggressively targeting the iPod with their Walkman line of digital music players, hoping to woo customers with lightweight and compact flash memory players instead of bulkier, hard drive-based units.
In fact, many of the new iPod alternatives aren't trying to compete with Apple's player at the high end but are focussing on consumers who are choosing between cheaper, lower-storage-capacity flash-media players and pricier, entry-level hard-drive players that hold more than 1,000 songs.
The Sony flash-media players will be knocked out for as low as US$130 (€97/£68) – not as cheap as the new iPod Shuffle, but considered to be better value because of a longer battery life and more features.
"Flash is going to be here for a while, because it's more affordable," Kelly Davis, product manager for Sony Electronics, says. "People are trying to get more capacity for their dollar.
The new Sony players are expected to give the company the No. 2 position in the portable music player market by next year.
Apple's iTunes service is also coming under attack, with rival Napster recently boosting its sales outlook with growing demand for its new "Napster To Go" subscription service, expected to generate US$15 million for its fiscal fourth quarter.
Apple is also experiencing competition from music services offered by rivals such as Microsoft Corp., Real Networks, and Yahoo.
The company still remains in good shape though, with Piper Jaffray analyst Gene Munster predicting continuing good sales for the iPod line.
"Our checks have left us more confident that demand for Apple's key products most notably iMac, Powerbook, Mac mini and various versions of the iPod continue to be ahead of expectations," Munster told clients in a research report. "We anticipate that strong demand across various segments of the company will allow Apple to exceed Wall Street estimates for overall revenue and earnings."
Munster expects the company to report earnings of US$1.04 (€0.77 /£0.53) per share on revenue of US$12.81 billion in 2005, up from previous expectations of a 98% share profit on sales of US$12.25 billion.
Piper Jaffray told clients it expects Apple to sell 3.8 million iPods during the second quarter, including 1 million iPod shuffle models, followed by 4.6 million iPods during the third quarter, with the Shuffle model accounting for 1.8 million of the sales.
Apple Shares Fall on Sony, Napster Fears (PA)
Sony MP3 players
Apple iPod