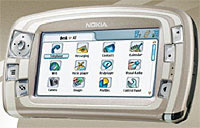 Finnish telecommunications equipment giant Nokia has announced a mobile television pilot, bringing live television broadcasts to mobile devices, starting in Finland today.
The pilot is a result of a collaboration between Digita, Elisa, MTV, Nelonen, Nokia, Sonera, YLE (The Finnish Broadcasting Company) and Nokia.
The project tests mobile TV services and consumer experiences, as well as the underlying technology, with 500 users taking part in the trials around the Helsinki capital region.
This trial follows on from a smaller test in Finland in late 2004, where Nokia learned that people liked watching mobile TV just about everywhere – on the move, in work, in pubs/cafes and at home – with news, weather, sports, entertainment and drama and comedy series proving popular.
This new trial employs a selection of Sonera and Elisa mobile phone customers, using specially equipped Nokia 7710 smartphones capable of receiving mobile TV and radio broadcasts.
The Nokia smartphone also enables direct links to the Internet for access to background information on TV programs or sports results, with access to a host of channels including MTV, YLE and Nelonen, CNN, BBC World, Euronews, Eurosport, ViVa Plus and Fashion TV.
Putting together this service has involved the cooperation of several companies, with Elisa and Sonera being responsible for customer service, invoicing and connections to the new interactive supplementary services.
Digita – who designed and built the digital TV network needed for the distribution of mobile TV services – will be responsible for managing the network, while Nokia will develop the mobile TV service management and smartphones that can receive mobile TV broadcasts.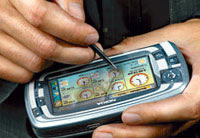 The mobile TV test uses IP Datacasting (IPDC), which conforms with the DVB-H standard.
At the end of 2004, the European Telecommunications Standards Institute (ETSI) adopted DVB-H as the standard for European mobile television services, enabling the simultaneous transmission of several television, radio and video channels to mobile devices.
The pilot continues until 20 June 2005. We're already salivating at the prospect of being able to sit in the pub and get all-interactive with the football action!