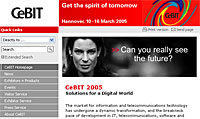 The world's leading technology tradeshow, CeBIT, starts this Thursday in Hannover, north Germany with pundits expecting the show to reflect the recent stellar growth in the $2 trillion technology industry.
After three slow years, net exhibition space is up from last year at over 316,000 square meters and the organisers are expecting the number of visitors to exceed 510,000 people.
Naturally, Digital-Lifestyles will be there on the ground too, so watch for updates from the show as they happen.
Signs for the industry have been good over the last year with mobile phone unit sales up 30 percent last year and computer shipments rising 15 percent, spurred on by customer-wooing new features such as wireless Internet access, built-in radios and high-quality digital cameras and price cuts.
CeBIT is one of the largest electronics exhibitions in the world – so big, it's close to frightening. As a guide, there are 6,117 companies from 72 countries taking part this year.
Within the 27 hanger-sized halls, visitors can expect to find a veritable Aladdin's cave of the latest technologies and services that may well become standard features in a few years time.
Amongst all the technological marvels on display will be Samsung's humongous 102-inch plasma display panel TV – the world's largest – LG Electronics' world's first 55-inch LCD television, and a 3D monitor display from the German Fraunhofer Institute that allows objects to be manipulated by gestures recognised by bio-sensors.
Naturally, the telecom industry will be out in force, showcasing DMB (digital multimedia broadcasting) phones, 3rd generation camera phones, 3D game phones and a clutch of mega-pixel camera phone.

As VoIP (Voice over Internet Protocol) continues to gain in popularity, there'll be dozens of companies showcasing devices to make free calls as well as displays of corded and cordless Skype phones by Siemens, Motorola, Good Way Technologies and Greatwall Infotech.
Sony Ericsson will unveil its first phone with a built-in Walkman while Nokia, Samsung and Motorola will be showing off their latest designs.
Naturally, the place will be awash with Wi-Fi and Bluetooth devices so, in theory, we've no excuse for not getting our reports out to you on time!