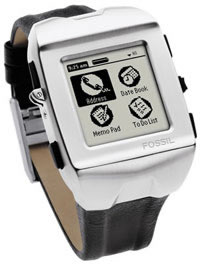 It's been delayed more times than the 8:25 from East Grinstead on a leaf-strewn morning, but Fossil has finally released its super geeky Fossil Wrist PDA Palm Powered watch.
Based on the Palm OS, the Fossil wrist watch provides full Palm PDA functionality, in a case so chunky that that it could double up as a shield.
First announced way back in late 2002 with a release slated for 2003, the watch edged into vapourware territory when Fossil admitted to production problems, rumoured to involve problems with the tiny touchscreen.
In the following long silence, everyone assumed that it had gone the same way as the dodo, but it unexpectedly resurfaced at the Consumer Electronics Show in January, 2005.
Remarkably very little has changed from the original specs during its two-year sojourn. The basic specs are identical, with the watch offering a 160×160 pixel grayscale LCD touch-screen, 66MHz processor, 8MB of memory running on Palm OS 4.1.
They're hardly the kind of specs to get the geek cognoscenti running to the stores, with several innovations missing from the feature list: there's no MP3 support, no Bluetooth, no wi-fi and no wireless updates.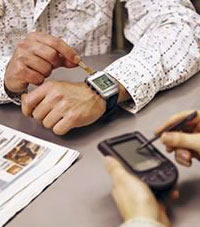 The watch itself is made of stainless steel, with a teensy weensy fold out stylus cunningly secreted in the strap buckle. Fossil have managed to fit in a USB socket and infra red port, along with three buttons and a rocker switch for onscreen navigation.
The unit has no waterproofing whatsoever, so a forgetful user doing the washing up while wearing the watch could be left with a very expensive – but utterly useless – bracelet.
Initial reports suggest that the battery life isn't up to much cop either, with the watch struggling to survive a day with moderate usage (2 hours)
The good news is that it will run most of Palm's immense application catalogue, although you may need a microscope to view some screens.
The watch is now available in two versions: the Fossil branded FX2008, priced at US$249.99 (£129/€188), and the Abacus branded AU5005, availably exclusively through Tiger Direct for US$199.99 (£104/€151)
Now, we like gadgets. And we like things that fit into watches. We love the idea of a wearable PDA but the more we looked at this watch the more it seemed about two years too late.
While there's no denying that it's an impressive feat to wedge so much technology into such a small form, it's ten-ton, 70s-style girth makes it look as cool as a kipper tie.
Moreover, its poor battery life and lack of multimedia support suggests that it's unlikely to score a hit with early adopters, and with smart phones offering far more functionality in a less dorky package, we can't see this one taking off.