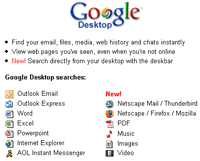 Google has taken its free desktop search tool out of beta and unveiled a finalised version capable of searching the full text of pdf files and the metadata of multimedia files.
The beta version could only index the names of such files, but the all-singing final application can index the entire content, including useful data such as song and artist names in music files.
Google product manager Nikhil Bhatla explains: "We've taken the product out of beta because now we have all the file types and features that were high on the list of user requests".
Bhatla also explained that Google hoped that more people would be encouraged to download and install the product now that it's no longer described as a beta app.
Google introduced its desktop product in October of last year, promptly followed by big search engine providers such as Microsoft, Ask Jeeves, Yahoo and AOL who are all keen to grab a slice of the desktop search market.
Desktop searches are one of the key battlegrounds for search engine companies, who hope that users installing desktop apps will extend their loyalty to the tool maker's Internet search engine – and thus increase profits from the lucrative, keyword-related online ads market.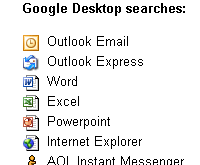 Other improvements in the Google desktop tool are support for Mozilla's Firefox and Thunderbird applications and AOL's Netscape browser and e-mail application (previously, the product only supported Internet Explorer and Outlook/Outlook Express).
The program can now index a veritable army of multimedia files including MP3, WMA, WAV, JPG, GIF, PNG, BMP, AVI, MPG and WMV.
There's also a growing range of plug-ins available, letting users index content from a wide variety of sources including instant messaging (IM) conversations from Cerulean Studios' popular Trillian Pro IM application, mIRC, music metadata files acquired from Apple's iTunes music store and OpenOffice.org and StarOffice documents.
Interestingly, Google are also looking to a third-party developer to create a speech-to-text plug-in to allow the product to transcribe the content of audio and video files and make it searchable – increasing the indexing capabilities of those files beyond metadata.

Although this desktop search tool is designed for use by consumers, Google have their eye on the workplace too, with the program able to recognise Microsoft group policy parameters on a PC.