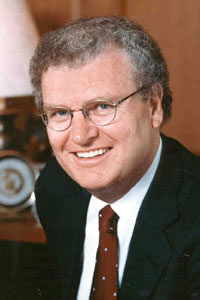 In an extraordinary move, Sony has named the Welsh-born head of its US operations, Sir Howard Stringer, as chairman and chief executive – a rare move for a major Japanese company to give its top post to a foreigner.
Sony's board are set to agree to appoint the 63-year-old Stringer at an extraordinary meeting in Tokyo today, according to a company source.
Current CEO Nobuyuki Idei, 67, will step down to take responsibility for slumping earnings after what's been described as 'five rocky years' at the helm.
(We think Sony is in a pretty strong position to rule in the time of Digital Lifestyles. They've got the content, they got tech and they're got the cool. They just need to have a stong grip of how media has been changing, and what they can do to take best advantage of it. – Ed)
President Kunitake Ando is also rumoured to be up for the boot, to be replaced by Ryoji Chubachi, an executive deputy president currently in charge of electronics parts and production operations.
Tasked with boosting profitability at Sony, there's a tough job ahead for Stringer and Chubachi, who are both mindful that their core electronics division has been wobbling in and out of the red amid tough price competition and a lack of big-hitting products.
In recent years Sony has failed to keep ahead of rivals Sharp Corp. and Matsushita Electric Industrial Co. in flat panel TVs and lost its lead in the portable music industry to Apple with its massively popular iPod player.
The market liked the sound of what it was hearing today, with shares of Sony rising 1.75 percent to 4,080 yen as of midday, outperforming the benchmark Nikkei average's 0.68 percent gain.
Fellow Taffy-boy Stringer, holds dual British and U.S. citizenship and will become the first foreigner to run Sony.
The company are expected to announce its intention to make the proposed management changes before noon (10 pm EST) today, to be made official at a board meeting scheduled for after a general shareholders' meeting in June.