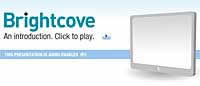 Jeremy Allaire, co-founder of Allaire Corp and one of the big shakers behind the successful ColdFusion Web technology, is unveiling a company that he hopes will make Internet movie/TV downloads a standard feature on home TV sets.
The new IP video startup, called Brightcove, has been formed to encourage the "democratisation of video production and distribution" with the Cambridge-based company having a hand in all facets of IP video or Internet TV – creation, delivery and monetisation (that's making money to you and I).
Brightcove has already raised US$5.5 million (£2.86m/€4.16) of first-round venture funding from General Catalyst Partners and Accel Partners and boasts a management team including executives from Allaire, ATG, BSkyB, Comcast, Macromedia and News Corp.
"We're going to build a service that marries what the Internet does really well, with television," said Allaire about his new venture, Brightcove Inc., which launches today.
Allaire explained his plans: "The online service will operate with a consumer-facing service that provides access to programming and content published in the service, and will also provide a very rich service to publishers and rights-holders interested in a direct-to-consumer distribution path for video products. The service will also provide tools to Web site operators generally, who are interested in economically participating in the online video revolution."
The company intends to offer an Internet service, for use by consumers with computers or set-top boxes, that can store hours of video programming on their hard drives.
Users will be able to order programs online and have them automatically sent to their hard drives, ready to view whenever they choose.
The compelling difference between the business models of rivals like Akimbo Systems and Dave Networks is that the users aren't tied to proprietary set-top devices for capturing and playing back the videos – any TV-compatible Internet device will do.
Brightcove is banking on public acceptance of new computers based on Microsoft's Windows Media Center PC software. This is a 'front room' friendly version of the Windows XP operating system is designed to work with multimedia devices like TV sets and stereo systems.
Allaire predicted that the Media Center standard will soon become common in home computers. "When you go to buy a consumer edition of a Microsoft product next year, it will be a TV device," he said.
The system will let users with compatible hardware and a high-speed Internet connection to rent or purchase videos that are then downloaded onto the device.
Purchased videos could be copied onto a computer's DVD burner to produce a disk that could be watched on any DVD player.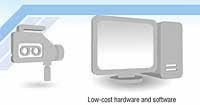 Unlike the Movielink/Blinkx service we covered earlier, Allaire doesn't plan to offer big-time Hollywood films on Brightcove.
Instead, Brightcove will tap in to the huge, embryonic market offer independent films and videos that cater to specialised tastes and aren't readily available through other channels. A very smart move in our book.
Allaire hopes his service will create a new way for film producers to deliver their work to the public – check out his introductory flash movie where he describes his vision of a future where "we'll see as many video channels as Web sites".
Thanks to Peter Ferne for the story lead.