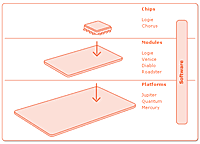 Frontier Silicon, the British company that makes chips for mobile digital television and digital radio products, has completed it US$28 million (€21m/£14.5m) investment round funding.
Irish venture capital firm ACT led the US$28 million investment in Frontier Silicon, with other participants in the venture funding round being Apax Partners, AltaBerkeley Venture Partners, Quilvest and Bluerun Ventures (formerly known as Nokia Venture Partners).
Frontier Silicon has developed two new products, the Apollo chip and Kino chip, which allow mobile phones to receive and record television programmes on their mobile phones, electronic organisers or MP3 players.
Anthony Sethill, founder and chief executive of Frontier Silicon, said that the money raised would be used for product development and marketing purposes.
He boldly predicted that half of all mobile phones would be capable of receiving television programmes within a year or so at an additional cost to the user of under $50 (€37/£26).
Frontier Silicon currently employs 60 people between its English, Hong Kong and Chinese operations and boasted a turnover of more than $30 million (€22.7m/£15.6m) in 2004.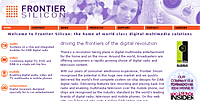 "This latest investment allows us to aggressively target and drive market share in the emerging mobile digital television market in the same way that we have established our chips in over 70 percent of DAB digital radios," said Anthony Sethill.
Frontier Silicon produces chips for DAB digital radios, with its customers including such industry heavyweights as Bang & Olufsen, Grundig, Hitachi, Philips and Samsung.
The company also delivered the world's first complete system-on-chip designs for DAB digital radio as well as the world's first Combined Digital TV and Radio Chip.