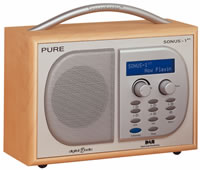 PURE Digital has announced its new PURE SONUS-1XT DAB digital radio, an enhanced alarm radio with unique iVOX voice feedback technology.
As well as the usual groovy DAB radio alarm features – two independent alarms, Volume Equalisation Technology (VETTM) and 'XT' audio quality via a custom designed speaker and active filters – the unit uses iVOX technology to tell listeners the available DAB stations as they scroll through them.
Usefully, time, alarm and setting up instructions, can also be spoken by the unit. We've pestered Pure for audio examples of both the female, and male voices that are available. We're really impressed with them, as they don't sound automated or generated, and appear to be samples that have been seamlessly joined. Below are a few MP3 format examples
The time is 3:06pm (Female)
Alarm 2 is set for 3:15 pm on weekdays only (Male)
Alarm 1 is set for 7 am on weekdays only (Female)
Preset 1 empty, press and hold to assign preset (Female)
The radio sports PURE's enhanced SnoozeHandle technology which tells the time with a single tap – great for hungover consumers unable to lift their head off the pillow. To check alarm settings users simply tap the SnoozeHandle twice to have them spoken.
The handle also doubles up a 'snooze' button, and giving it a slap in the middle of the night will light up a full-screen clock.
Says Kevin Dale, president, PURE Digital: "SONUS-1XT builds on the success of our DAB digital radio alarm system with iVOX, a natural speech technology that adds a new dimension to radio listening. The combination of iVOX and our SnoozeHandle technology takes DAB digital radio to the next level in interaction."
PURE uses its Volume Equalisation Technology to constantly monitor the audio levels of every station to ensure consistent volume when switching stations.
All the handy benefits of DAB digital radio are there, including station select by name; scrolling track info display, news and sports results; and greater station choice.
The radio also offers a nine-event timed record function for use with MiniDisc or other recording devices, a USB connector for downloading software upgrades from an Internet-connected PC, a headphone socket and stereo line-out for recording.
A custom designed 3″ drive unit and active-filters provide a full sound with an option to upgrade the unit to stereo via a matching XT-1 add-on speaker,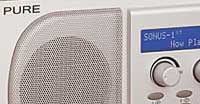 It looks reasonable too, kitted out in smart maple wood casework with a pearlescent white front fronted with a silver grille and control panel with scrolling blue LCD text display.
SONUS-1XT is expected to be available on the high street at around £119.99 (€173, $230)