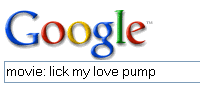 A handy Google search feature went live this week that lets users find showtimes at nearby movie theatres using either their computer or mobile phones and other wireless devices that use short-message services.
The service is available from any Google search box or via SMS.
So a movie hungry visitor to New York could enter their zip code in this search phrase "movie: 10122" to get a listing of what's playing and when at theatres in their area. If they're looking for a specific film, typing in, for example, 'Vera Drake in 10122′ will provide local listings and show times.
The new feature also provides information such as theatre locations and reviews, and enables users to search for movies by title, plot or genre, sortable by movie or cinema.
Other possible searches can help with recommendations or simply refresh fans' memories (or settle late night arguments).
A query such as "movie: lick my love pump" would return with "This Is Spinal Tap (1984)", or searching on "movie: great fights" would provide a list of films featuring lots of fabulous punch-ups. And before you ask, yes, it works for naughty words too.
The search results come with a star rating, calculated on an aggregate of online reviews, and links to critics' reviews.
"We'll expect more traffic flow overall in movie names," said Marissa Mayer, Google's director of consumer Web products. She said increased inventory will increase bidding. "We're basically creating a new market for AdWords."
In addition to film studios, Google expects marketing interest from video and DVD distribution companies such as Netflix, Blockbuster Online and Amazon.com, and from marketers of celebrity wallpaper, mobile ringtones and other such money-spinning merchandise.
This latest service ups the stakes in the ongoing bunfight between Google, Yahoo – and recently MSN search – as they battle to provide the most comprehensive set of Web search tools – and get a slice of fast-growing advertising revenues.