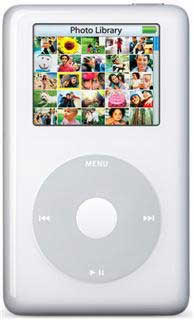 Apple has updated its iPod photo line-up with a new slim 30GB model, holding up to 7,500 songs, for just £249 ($475, e360) and a new 60GB model, holding up to 15,000 songs, for £309 ($590, e446)
Designed for content-hungry consumers who can't bear to be parted from their music and photo libraries, both iPod photo models feature a high-resolution colour screen for displaying photos and (ahem) "enhancing the entire iPod music experience" (we think this translates to having some pictures and album art to look at while you're playing songs).
Both models hold up to 25,000 digital photos and will feature the ability to import photos from your digital camera via the new iPod Camera Connector for "instant viewing and slide show playback ".
"The new slim 30GB iPod photo at just £249 lets music lovers enjoy their iPod in full colour, including album artwork along with their personal photo library," enthused Steve Jobs, Apple's CEO. "And now you can import photos from your digital camera directly into iPod photo with the optional iPod Camera Connector."
We welcome this enhancment, meaning that holiday won't involve lugging a laptop around just for image downloads. Sadly, the iPod Camera Connector is not built in: it's an optional extra that will set consumers back £19 ($36, e27.5) – and it isn't available until March 2005.
Although the iPod remains one of the finest MP3 players on the planet, we're not convinced that the iPod Photo is quite there yet as a photo wallet.
Unlike some rival units, there's no built in card reader or Bluetooth support and we haven't been able to work out if the iPhoto will be able to import – and view – RAW format files, something that would definitely create enthusiasm amongst the photographic cognoscenti. It would appear strange if they didn't given, the impressive support that Apple's iPhoto software has for the RAW format.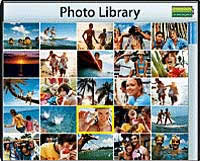 The truth is that the iPod photo seems to be far better as a versatile MP3 player and photo presentation unit rather than something for serious photographers to use for direct-to-camera storage.
However, the aggressive price cuts (rumoured to be in response to rumoured poor sales of the original iPod photo) will no doubt be warmly welcomed by consumers and ratchet up the fierce competition with main rivals iRiver and Creative Technology.
The 4GB and 6GB models of iPod mini for Mac or Windows are available worldwide immediately for a suggested retail price of £139 ($265, €200) and £169 ($322, €244) respectively, in a choice of silver, pink, blue or green.
"At this breakthrough price point, and with more than twice the battery life, the new iPod mini should appeal to even more music lovers," said Apple Chief Executive Steve Jobs.
Both iPod mini models feature increased battery life of up to 18 hours, USB charging and the same lightweight design.
All these new iPod models work with the Apple iTunes software and store, and are compatible with either Mac OS or Windows based PC, connecting via firewire or USB 2.0.