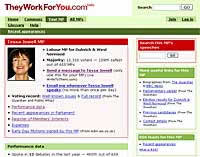 Politicians, eh? Despite electing the slippery blighters, it can be next to impossible to work out what they're doing – or not doing – on your behalf.
Thanks to the wonderful folks at theyworkforyou.com, you've been able to check up on their activities and find out if your local Member of Parliament has been delivering on their promises or skiving off down the pub.
To find out what your MP has been up to, simply type in your postcode and you'll be presented with a detailed homepage for your local MP.
From here you can check on their performance data (how often they reply to faxes, Parliamentary attendance records, voting record etc), read their latest wafflings in the House, peruse their declared 'member interests' and even have a look at their expense claims.
But the meat'n'potatoes of the site is their online, searchable database of Hansard (in case you didn't know, Hansard is the Parliamentary publication which records every mumbled utterance of MPs in the House of Commons). This lets you access and search everything said in Parliament since 2001. Not only that, but you can place your comment against each of the phrase uttered.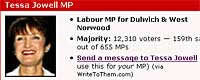 Since its June 2004 launch, the site's feature list is constantly updated. One of the recently additions is to have the system alert you, via email, whenever your MP speaks – driving the information to you, rather than you having to check the site.
You can also now search through all your MPs speeches and be notified whenever an issue of interest to you is raised in the house. And if you don't like what they're saying, you can use an online form to mail your MP a piece of your mind. Fantastic stuff!
The not-for-profit site was launched last June and is maintained by twenty or so volunteers who have declared their belief that it should be really easy for people to keep tabs on their elected MP, and to be able to comment on what goes on in Parliament.
Their mission statement explains:
"For all its faults and foibles, our democracy is a profound gift from previous generations. Yet most people don't know the name of their MP, nor their constituency, let alone what their MP does or says in their name.
br> We aim to help bridge this growing democratic disconnect, in the belief that there is little wrong with Parliament that a healthy mixture of transparency and public engagement won't fix. Hence this website."
The team have an impeccable background, developing and running some of our favourite Web sites: PublicWhip.org.uk, FaxYourMP.com, PepysDiary.com, Haddock.org, Byliner.com, B3Ta, DowningStreetSays.com, MySociety,
They were also responsible for the highly-accessible 're-versionings' of the National Rail Timetable and the Odeon Cinema websites (the latter was sadly taken offline as a result of legal threats by the Odeon).
Although there's no denying that the digitisation of music and films is a more sexy subject for some, this site is a great example of how technology can be used to really make a difference and make the democratic process more accountable.
Please use it!