JVC have wheeled out a veritable cavalcade of new, full-featured multi-format DVD recorders, including a series of combination units that combine DVD recording with hard disk drive (HDD), VHS and Mini DV recording.
Stuffed full of technical innovations and user-friendly features, JVC hopes that their range will delight DVD dubbers and enrapture home recorders.
At the heart of the new JVC DVD recorder line is the DR-M100S, which records in the DVD-RAM and DVD-RW/-R formats. Also in the 2005 line up is the DR-MH300S DVD/HDD unit with 160GB hard disk drive, as well as the DR-MV5S DVD/VHS recorder, which features JVC's exclusive VHS Progressive Scan for superior VHS mode playback.
Interestingly, JVC is also offering a new three-way combination unit – the DR-DX7S -combining a Mini DV deck with DVD and hard disk drive recording.
"The growth of the DVD recorder market over the last year shows that consumers are looking for more versatility in how they watch television and movies," said Dave Owen, General Manager, Consumer Video, JVC Company of America. "Our new DVD recorder line is designed to meet the needs of virtually every customer. We're providing advanced recorders that offer an unprecedented merger of innovation and utility."Let's take a closer look at some of the new models offered in JVCs line up.
Available in March 2005 for around $349.95 (€268, £185) the DR-M100S DVD recorder allows up to 16 hours of recording time (when using a dual sided disc) and shares all of its features with the line's combo models. It can record in DVD-RAM and DVD-RW/-R formats and play back DVD-RAM, DVD-RW/-R formats, as well as CD, CD-R/RW, VCD, SVCD, JPEG and MP3 files.
The DR-MV5S makes it easy for consumers wishing to archive their collection of VHS recordings onto DVD. Combining a DVD recorder with a VHS VCR the one-touch intelligent dubbing system offers auto record speed optimiser which calculates total recording time on VHS tape then automatically selects the most suitable recording speed for dubbing to DVD.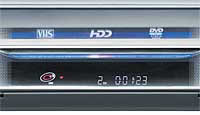 Those with VHS collections chaotically labelled with a load of indecipherable scrawling, may enjoy the auto thumbnail creation feature, which automatically creates video thumbnail chapter references when dubbing to DVD.
The DR-MV5S will be available in April for around $449.95 (€345, £237).
We find the DR-DX7S the most interesting of them all (launching in July for $1,799.95, (€1,378, £958) although it's not cheap.
By combining a 250GB hard disk drive, a DVD recorder and a Mini DV deck this looks to be a perfect solution for camcorder users who don't fancy fannying about with a computer.
Users can simply load a Mini DV cassette into the deck to easily edit home videos on the hard disk drive and then dub onto DVD.
Mini DV is recorded onto the hard disk drive in the original Mini DV format, so footage can be dubbed, edited on the hard disk drive and then transferred back to Mini DV without a loss in quality. Nice.