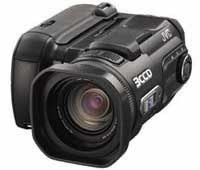 The diminutive JVC GZ-MC500 comes with three 1/4.5-inch CCD that records high-quality MPEG-2 video onto CompactFlash microdrives, with a 4 gig card, capable of storing up to an hour of "DVD-quality" video.
The GZ-MC500 is slightly larger than the previous two Everio models, and the increased size makes it easier for users to access advanced features such as a focus ring, manual shutter speed control, manual aperture control, real time histogram display, auto bracketing and manual white balance control.
There's also the usual Program AE dial on the side of the unit, offering a range of exposure options including Shutter Priority, Aperture Priority, Twilight, Sports, Snow, Portrait, and Auto/Manual modes.
In keeping with its prosumer aspirations, the camera features a rotating grip and is kitted out with a matt black finish of a fairly rugged construction, although the small LCD screen (1.8 in) and weird omission of a microphone input may deter prospective customers.
The camcorder's zoom is a bit weedy as well, measuring in at only 10x optical zoom (8x for stills).
The Everio offers four recording quality levels for the MPEG-2 video, with the highest quality setting providing 60 minutes of video recording time on a 4 gig card, with the lowest quality setting stretching it out to pixellated-tastic 300 minutes (JVC says that models with six or eight gigabyte hard disks will be available later in the year).
JVC includes the PowerProducer DVD authoring software with the GZ-MC500 so users can export their video to different medium/formats.
For capturing high quality still images, new camcorder sports an interpolation technique called "pixel-shift" which JVC claims is capable of doubling the amount of information horizontally and vertically via "prism optics and filterless 3-CCD pixel shift technology".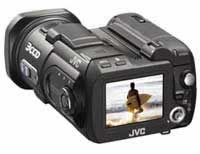 Translated into a language approaching English, this means that the camera is able to produce thumping great 5-megapixel with a resolution of 2560 x 1920 pixels still shots. This is second only to Samsung's latest Duocam camcorder.
With consumers warming to hard disk based recorders, this compact combination of camcorder and camera, could prove enticing to enthusiasts keen to start fiddling about with all those exposure options and consumers looking for auto-everything recorder.
The JVC Everio GZ-MC500 will be available in March for $1,799.95 (£950, €1,400)