We may not win many things these days, but when it comes to downloading pirated television, us Brits can puff out our chests and proudly declare, "we're number one!"
The UK has emerged as the world's biggest market for downloading pirated television, driven by tech-savvy fans unwilling to wait for popular U.S. shows such as '24' and 'Desperate Housewives.'
Britain's status as the big cheeses, head honchos and numero unos of TV downloading was revealed on Thursday in a study by UK technology consultancy Envisional.
The report could pose problems for UK broadcaster BSkyB, which is counting on high-profile US shows such as the new "24" series to draw new subscribers and entice advertisers to its satellite TV service.
According to Envisional's report, devilish Brit downloaders account for nearly one fifth of TV downloads through file-sharing networks such as BitTorrent and eDonkey. In second and third place were Australia and the United States.
"Because there's such a demand for US TV, the UK is going to be the main downloader," said Envisional research consultant David Price.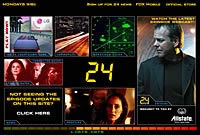 The downloading frenzy has been driven by the consumer-annoying practice of releasing popular US TV shows such as "The West Wing," "The Sopranos" and "Friends" months after they've been seen by our American cousins.
Broadband-connected UK fans keen to get the latest fix of these shows have – not surprisingly – elected to download the programs instead, with episodes of popular shows like '24' showing up on the popular file-trading network BitTorrent minutes after airing in the United States.
According to Envisional, a typical '24' episode is downloaded by about 100,000 users, with "The Simpsons," "The OC" and a host of sci-fi programs including "Stargate SG-1" and "Enterprise" also being firm favourites with the UK pirates.
Other TV networks airing large amounts of US shows are monitoring the growing popularity of online TV downloads, although insiders feel that the level of technical knowledge required will keep it a minority interest.
For now.
Of course, in the US, Hollywood is already putting in the boot, with the Motion Picture Association of America dishing out lawsuits like they were going out of fashion.
Several sites providing links to movie and TV download sites have already been closed down, with LokiTorrent being a major scalp last week.
The broadcast industry's failure to learn from online music sharing means that without a legitimate TV download service, consumers will continue to use file swapping sites while lawyers get fatter.