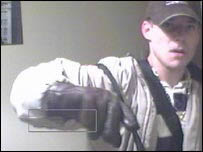 A 19-year-burglar is now enjoying an eleven month stretch at Her Majesty's Pleasure after he was photographed burgling a house by the owner's Webcam.
Software engineer Duncan Grisby, 30, set up the movement-activated surveillance system following a previous burglary three years before.
The Webcam was set to start filming once it registered motion, with images of the hapless burglar being safely transferred from the computer to a remote server.
The Webcam captured every movement of Benjamin Park, 19, including a handy close-up when he stared straight in the Webcam before going on to steal the computer and other equipment worth £3,719 ($7,000, Euro 5,300).
When 30-year-old Mr Grisby returned from holiday this month, the pictures were handed over to police, who instantly recognised Park, a very naughty boy already on bail for an attempted burglary in Ely.
Police tracked down Park, who was already boasting 33 previous convictions for theft, to a block of flats in Cambridge, where he was arrested as he tried to leg it from the long arm of the law.
Travers Chalk, the chairman of the Cambridge bench, sentenced Park to 11 months in prison after he admitted the offences. "You have a record which is awful, dreadful," the magistrate told him.
Understandably, Mr Grisby wasn't too chuffed with what he felt was a lenient sentence for a serial burglar, saying, "It is a rather pathetic sentence to hand someone like that, a career burglar."
Although photographs of the burglar in action have been published by the police, one piece of footage that hasn't been available was the look on Park's face when Det Sgt Al Page, who leads the Cambridge burglary squad, showed him the Webcam shots.