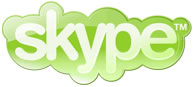 Skype today released their Voice over IP (VoIP) software for Linux and Macintosh.
Skype lets people make telephone-type calls to other Skype users, around the world for no cost.
Until now, only Windows-based versions of the software have been available, and the new platforms have been a long time in coming. We envisage it will significantly boost the 23m users and 56.5m downloads of the software to date.
Skype for Mac OS X V 1.0 and Skype for Linux V 1.0, to give them their full titles, will connect seamlessly to the current Windows and PocketPC versions. All of the current functions that Skype users know and love will also be supported on the new platforms.
Skpye user are also able to call 'normal' phones around the world, using the SkypeOut service, which offers reduced price calls.
The popularity of Skype is continuing to accelerate, and we are finding that it is spreading beyond the technical, early-adopter to many computer-owning members of the public. Many people are finding new ways to communicate with friends and family around the world, such as leaving the voice channel open while they walk around the house, treating the connection as an extension of the room.