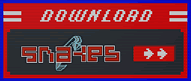 The all-time classic Nokia game, Snake, has now hit their gaming platform, the N-Gage. Best of all it's free to download.
One initially surprising thing is that the whole game can be uploaded to another N-Gage via Bluetooth. Clearly this hasn't been a feature of the commercial games already released, which include snowboard-a-thon SSX yesterday, but as it's a give away, it makes it an interesting way to get it spreading.
Pasi Pölönen, Director, Game Publishing at Nokia said in a statement, "The unique method of viral distribution via Bluetooth, plus the free download, means that practically every N-Gage owner can enjoy the addictive gameplay and upload their high scores to the N-Gage Arena."
Snakes on N-Gage has been updated to run in 3D, taking advantage of the additional processing power of the N-Gage. It also lets up to four players join together in a game by using Bluetooth to connect them up.
N-Gage hasn't been the huge success that Nokia had wanted, but it is clearly not going to let the N-Gage slip away unnoticed.
Just looking at the Snakes Break Out Website, that they've prepared to support the release of Snake, proves that. It appears they have spent a considerable amount of money on its faux-TV appearance – and this is for a game that is FREE to download.