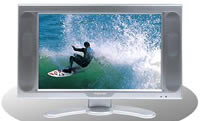 Shanghai-based Fudan University has developed the country's first home-made digital TV chip. Not only that, but the chip has passed appraisals by experts from the Chinese Academy of Sciences and Chinese Academy of Engineering, and it's outperformed European and US standards in terms of sensitivity and anti-jamming capacities – at lower costs.
The 'Zhongshi No.1' chip, which is based on China's DMB-T standard and is made by Grace Semiconductor Manufacturing and Semiconductor Manufacturing International, integrates more than 70 storages, 2 million logic gates and 20 million transistors. It's expected that the mass production of the cost-effective chip will help to boost China's digital TV industry as it will pave the way to a new generation of high-definition televisions (HDTV).
Apparently, dozens of electronics makers have integrated the new chip technology into their products, including Changhong, TCL, Skyworth and Haier. China's Henan Province has applied the new technology to launch mobile TV programs, and other localities have reported success in trial operations. US-based Time Warner has also announced that it plans to offer subscription-based digital TV programs to China.
According to official statistics, China has more than 370 million TV sets and an average 40 million sets are being sold each year. China plans to broadcast the 2008 Beijing Olympics on digital TV and hopes to roll out the service nationwide by 2015.