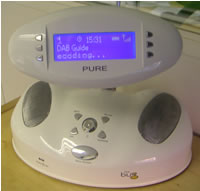 PURE Digital announced today that it's offering support for an Electronic Programme Guide (EPG) for the Bug DAB digital radio.
Using the EPG, Bug users will be able to browse the programmes coming up over the next 7-days, read additional information about them and select them for recording. In the same vein as a Personal Video Recorder (DVR), does this make it a DRR – Digital Radio Recorder?
While the Bug has been able to record and rewind live DAB radio since its release (in May 2004) onto SD memory, the addition of the 7-day EPG provides the another piece to make it perform like a TiVo. It is the first DAB radio to support an EPG.
The EPG system has been in development for about a year. Back in September 2004, Jonathan Marks highlighted ETSI Doc. number TS 102 818) that is part of the Eureka 147 DAB standard, under the auspices of WorldDAB.
The final version of the Bug EPG software release is expected in Q1/2005, after completion of the EPG trials.
The EPG software that runs in the Bug was created by Ensigma and the EPG Management system that runs at the radio stations has been developed by Unique Interactive.
DAB radio is becoming accepted by the UK listener. Last week it was announced that over 1 million DAB radios had been sold in the UK with a forecast of a further 1.2m in 2005.
PURE Digital is a consumer products division of Imagination Technologies, who were originally called Videologic many moons ago.
Buy the PURE Bug from Amazon UK
The Bug – EPG Trial v1.3; release notes
Unique Interactive
WorldDAB
Bug images, courtesy of Unique Interactive