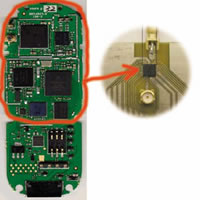 Texas Instruments (TI) has announced they will bring a integrated single-chip solution for mobile phones.
Based on TI's Digital RF Processor (DRP), it integrates two basic chips, one that controls sending and receiving radio frequencies, and one that controls basic computing functions.
It will bring the advantages of lowering the cost, size and power requirements, while raising performance. All of these are vital in producing high-volume, entry-level cellular phones, particularly when selling into high-growth regions such as India and China.
Currently half of TI wireless business is not that it's news to them. Back in 2002 TI announced its intention to integrate the bulk of handset electronics on a single chip, for delivery in 2004. It squeezed in to 2004 by providing samples in December 2004.
The NY Times is reporting that Qualcomm announced (reg. reqd) it had developed integrated technology back in November, but it is unlikely to reach the mass market before TI's. Clearly TI is excited about it, Bill Krenik, manager of wireless advanced architectures for Texas Instruments said to the NY Times, "This isn't an incremental step, it's a big leap forward."
Juha Pinomaa, Vice President, Entry Business Line, Nokia is equally sprightly. "By incorporating TI's DRP technology into a single chip, future Nokia mobile phones will provide the ideal mix of cool features and cost-effectiveness, making them more attractive to the mass marketplace."
Not resting on its laurels, TI's integrated wireless technology roadmap also includes a single chip solution for digital TV for mobile phones, as well as future single chip solutions for GPS, wireless LAN and UMTS.
TI Nokia

Image source – The Hong Kong University of Science & Technology