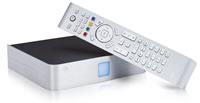 Video Networks Ltd (VNL), who run the UK VOD service, HomeChoice, will be doubling the speed of their broadband service from 1st February, at no extra cost.
512Kbps will raise to 1Mb, 1Mbps to 2Mbps and 2Mbps to 4Mbps.
Last week the two UK cable companies, ntl and Telewest, announced they would be offering Video on Demand (VoD) in the UK over their existing connections. They both offer broadband services at a range of speeds, but they are generally distinct from the TV services which are available at extra cost, except from occasional special offer bundles.
Currently ntl offer "broadband" at 300Kbps (arguable if this is broadband), 750Kb and 1.5Mbps (£37.99/month (~€57.50, ~$75). Telewest offer broadband only services (blueyonder) between 256Kbps and 4Mbps, with the top package being £50/month (~€72, ~$94). As these prices don't include the TV services, they also won't include VoD, when it gets rolled out.
The HomeChoice offering is delivered over a telephone line and includes the TV service; VoD; free evening and weekend phone calls; as well as higher speed broadband connections with their base level service now being 1Mbps. Their 4Mbps service is priced at #45/month (~€65, ~$85).
Roger Lynch, Chairman & CEO, Video Networks Ltd. said: "Video Networks is constantly looking for ways it can enhance its current suite of services to continue to provide a superb customer experience."
It's taken long enough for competition to arrive in the UK, but it finally appears to be taking root. For the UK consumer, this is all good news, as competing providers clamour to offer better deals to woo subscribers.
HomeChoice is currently available to over 1.4 million homes around London. VNL have stated that they want to expand their offering beyond London, although details are not yet public.
Existing HomeChoice customers will be notified of the automatic speed upgrades from 24th January via direct mail.