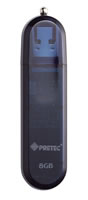 Pretec Electronics have announced an 8GB USB drive, that they're calling the i-Disk II, at CES today. Currently it's the highest capacity key chain drive and the second to market.
Along with the 4GB that they're simultaneously releasing, it provides high speed access by using what they call "dual channel technology" providing read / write speeds of 16MB / 12MB per second.
Both USB drives come bundled with the FlashMail, MobileLock, and SecretZip software. Flashmail provides email access from any machine simply by inserting the USB drive into a Windows machine.
The 4GB is now available and Pretec say the i-Disk II 8GB USB flash drive will be delivered by Q1 2005. It's not cheap, being priced at $999 (~€755, ~£531), but it's a huge amount of solid state storage.
BUSlink released the first 8GB drive, which is physically slightly bulkier, but has a slower read/write rate, 10MB/9.2MB. The bigger downside is it costs, $1,799.99 (~€1,360, ~£956).
Pretec's other claim to fame, is as the company that brought iDisk Tiny, the smallest USB flash drive, to the world in 2003. They have now updated this with an even smaller version called the CU-Flash.
We're big fans of USB flash drives and see them extending beyond the current "Here's my power point presentation" corporate usage to becoming totally mass market as the public come to realise that they can be used to hold their identity data and provide access to their personal information and email. At these capacities they also become practical for holding private collections of audio and video media.