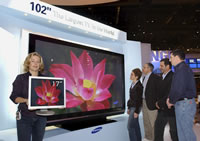 Samsung is showing a 102-inch Plasma Display Panel (PDP) TV at CES. Currently standing as the worlds largest TV, they're upping the ante of their own 80-inch screen they announced back in January last year.
The gargantuan 102-inch screen is currently just for demonstration, but Samsung plan to start shipping their 80-inch PDP and 57-inch LCD screen in the US this year. The original costs spoken about for the 80-inch, the HPR8072 which planned for a May release, were a heart stopping $45,000 (~€34,000, ~£24,000). The 57-inch, LNR570D, will cost $17,999 (~€13,700, ~£9,600) and come out in June.
If you hadn't guessed it from the dimensions, you can see from the photo that this 102-inch baby is large.
Samsung are putting serious effort into become recognised as a leader in TV screens of all technologies. They're also showing a slim line Cathode Ray Tube (CRT) at CES and at the start of this week they announced a high resolution 21-inch single-panel, Organic Light-Emitting Diode (OLED) display.