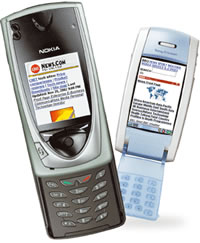 Opera Software ASA, who are headquartered in Oslo, Norway and make the web browsers of choice of the technical stalwart, has had one million downloads from the Web site of their mobile phone-based browser. This is in addition to the browsers that they have provided to many mobile phone makers including Nokia, IBM, Sony Ericsson, Kyocera, Sharp and Psion.
Browsing Web pages designed for PC screens has been a problem as many web sites fix their column widths, primarily to ensure their advertising banners are displayed, leading to a lot of horizontal scrolling when viewed on a small screen, such as those on a mobile phone.
Opera's Small-Screen Rendering™ (SSR) technology intelligently reformats Web sites to fit inside the mobile devices limited screen width, thereby eliminating the need for horizontal scrolling. All the content and functionality remain available; it is only the layout of the page that is changed.
It has been running for some time on the Sony Ericsson P800/P900 and Symbian OS-based phones. Adding to these platforms, at the end of August, they launched a browser product for Windows-based mobile devices.
In June Opera displayed that they understood that browsing many web pages at their original created resolution would not only take a considerable time to download, but that phone users would be paying high mobile data charges to bring down large graphics that wouldn't even be able to be displayed on portable handsets. Their approach – the Opera Mobile Accelerator – a subscription service, which via a proxy server run by Opera, compresses Web pages and eliminates unnecessary content before it is downloaded to the mobile phones. The net effect is a reduction in the size of download of between 50%-70% and also in the data charge. Popular with mobile phone users but, we imagine, not very popular with mobile phone service providers who will be losing income.