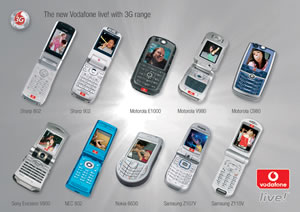 Vodafone is launching their 3G voice services in Europe and Japan with a big splash by announcing 10 handsets at the outset.
The range of handsets, which Vodafone is excited to tell us contains some models and designs that are exclusive to them, contains Europe's first 2 mega pixel camera phone, CD quality music and stereo speakers. The Sharp 802, 902 and the NEC 802N are exclusive to Vodafone and a further three will be exclusive at launch. The launch features the handset that we are particularly excited about, the Motorola E1000, that includes has all of the desirable features including A-GPS for location based services.
Vodafone Live!, their content play, is also heavily featured as this is the great hope in trying to gain back some of the billions they have spend to 3G licenses around the world.
Following our calls to Vodafone, they confirmed that no further details on the handsets or services would be released before November.