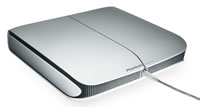 We have covered the on/off, is it real, is it vapour history of the Phantom Console a number of times.
We now learn that Infinium Labs are at E3 showing the Phantom Console on an 8,000 sqft stand and signing up game developer for the platform. They have also released their pricing plans.
The Phantom is essentially a sealed box containing a high spec PC that has been designed for gaming, so comes complete with a high end graphics card. What makes it different is that the games are loaded on to it via broadband, so not only are there no physical distribution cost for it, but the payment models for the games can vary from single play rental to ownership.
Following its planned 18 November launch, it will sell for $199 or for free, if two years of membership to the $29.95 per month broadband gaming service, Phantom Gaming Service, are signed up for. At the start of the service a large number of free games will be available.
The sleek-looking device will be manufactured by Biostar in Taiwan, and will feature a 40GB hard drive, AMD Athlon XP 2500+ central processing unit (CPU), the NVIDIA GeForce FX 5700 Ultra graphics processing unit (GPU) and the NVIDIA nForce2 Ultra 400 platform processor. It will also ship with gamepad, mouse and keyboard that they are labelling the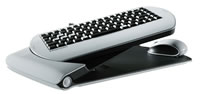 Phantom Lapboard, which they claim gives easy control over the keyboard and mouse even when sitting on a couch.
There is plenty of innovative ideas in the Phantom such as the way the capacity of the hard disk is managed. The unit will notice when the drive is becoming full and will invisibly remove the least played games, automatically uploading them from the central server if the gamer request a play.
Kevin Bachus, president of Infinium Labs previously worked in a senior position at Microsoft in the Xbox division.
It is a brave company that takes of the likes of Sony, Nintendo and Microsoft, and all gaming consoles live or die on the support of the games developers – if there is no strong flow of quality titles, people will not buy. Mr Bachus is not alone in thinking it is a good idea; Infinium has just $46m in first round funding.