As Britain moves closer to complete broadband coverage, communities around the country are beginning to explore the potential that interactive services offer and are partnering with technology companies and content providers to create some innovative services.
We decided to look at one of the best examples of community broadband TV: Kingston Communication's collaboration with an East Yorkshire school which has led to an exciting project to engage pupils in interactive learning, both at home and in the classroom.
The Kingswood High School's Broadband TV (KBTV) Project was conceived in 2001 under the UK Government's Information Society Programme and Hull's own Digital Learning Plan. Kingswood was chosen to collaborate with the BBC in its Headstart project.
The BBC provided the school with access to its film and video archive – and from this, using standard desktop tools like Premiere, pupils and teachers were able to create interactive content that formed the basis of many exciting and informative lessons.
Kingswood High went on to develop the idea into community broadband TV – with the aim of providing a range of interactive services via set top boxes (STBs).  The school secured enough funding for the project to provide a one-year trial of STBs for all the families in the local community with a suitable phone line.
We spoke to Andrew Fawcett, Head of Products and Services at Kingston Communications about the stealthy growth of broadband television: "IPTV has come of age, and it's come of age in a non-linear fashion.  We're on both sides of the equation, because part of our business is being a broadband ISP, and that's been experiencing exponential growth, delivering one megabit of broadband to a consumer PC.  Since 1998, we've been delivering five megabits into the back of people's television sets with a service that people don't know is broadband."
We asked him for some background to the Kingswood project: "Everybody who goes to Kingswood School, all the kids basically as part of their school work, use the KIT service – it's given to them free of charge.  They're creating their own content at school level."
"The service covers 200 homes at the moment, but we have a proposal to roll it out to 2000."
Staff at the school are finding that this new way of learning reaches and appeals to children who would not normally enjoy or benefit from traditional classroom teaching methods.
The interactive service provides immersive learning tools at school and at home. Andrew added, "They (the pupils) get the Kingswood Channel, a school's TV channel with three elements to it.  One is that we deliver curricular materials – there's a permanently available set of resources for all subjects that's very video rich."
"The second part is taking stock materials and turning them into their own programmes."  Each (school) year has its own area on the service, though areas are accessible to everyone."
As an example of this, Andrew showed us a documentary on arson that had been created at the school.  The film had been constructed from content that was put together by the school's pupils and teachers.
Part of the experience of learning about arson includes the kids going out with cameras and interviewing people.  The idea of making children media literate is very powerful. I've seen kids who would be a nightmare in class, but this stops being class work, and becomes making a film – and more importantly it becomes a film that's going to be on live telly when they get home.  You can suddenly engage kids at a level that's incredible.  Very significantly, the school comes into the home."
The film included an interview with victims of arson, and an arsonist – and was put together with standard desktop tools like Adobe Premier.
Interactive television like this also provides educators with valuable information on the effectiveness of services and lessons.  "Year Ten", he told us, "will be asked to go home and watch this as homework.  We track usage for a select number of pupils who have chosen to opt in to the research elements in the programme.  We're looking at Educational Family Footprints.  One of the key determinants of the success or failure in education is parental support.  We've taken families with different educational footprints – from homes where education is core to the family life, to others where education is less important."
The third aspect of the service provides pupils with a virtual PC they can access using their television set at home.  The system runs a virtual PC using Citrix MetaFrame – all the processing is done at the server end of the network, which only sends screen updates to the set-top box.  The box essentially becomes a "dumb terminal".  Pupils can access and save work stored on the school's network, and use Star Office providing them with applications for word-processing, spreadsheets and presentations."
A virtual PC service like this has many advantages, as the customers don't have to maintain a PC at home and so security against spyware, hacking and viruses is taken care of by a qualified IT department at the school.  It also ensures that pupils all have access to the same computing platform.
Andrew is justifiably proud of this aspect of the service, "Of all these things we've done with KIT, this brings everything together.  It brings the localness and on-demand aspects of the service together, and it emphasises the difference of broadband TV – you could never provide an application like this with satellite TV.  It's wholly back-channel dependent."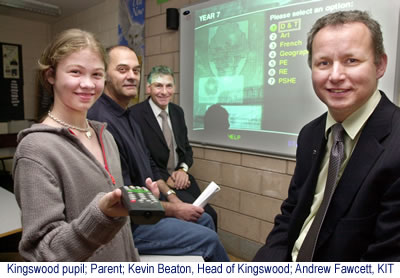 Kevin Beaton, Head Teacher at the school explains why they wanted to get so involved in a service like this:  "The rationale for the whole project is that the school becomes the local hub that is able to provide the surrounding community with access to digital services. Initially the focus will be on education, so that we can prove to everyone involved that the principle of on-demand access to information and interactive educational content really is viable."
Vein continued, "The school is currently developing material to be used on KBTV, and we've identified a number of logical and consistent uses for the system. Lessons in several departments are already being developed using our very latest interactive 'White Boards'. This in turn means that teaching methods and the style of learning are changing, and more and more lessons will begin to make use of film and video as a stimulus to greater creativity. Some of the items will only be produced for homework purposes; hence students would be expected to watch educational material on film, and then complete set work on the film at home. Other material will be work from lessons at school, which can be completed at home, or perhaps reviewed at a later stage as part of a planned revision programme.
"Yet other material will be demonstration work from subjects like Design Technology, where soldering small intricate parts can be clearly be shown to pupils in close-up mode. In the field of Art it would be possible to view many different examples of paintings and sculptures, with the key points that ensured the success of the work clearly demonstrated.
"Another interesting aspect of the KBTV on-demand channel is that parents would have independent access to vital school information concerning their children. This would include attendance records, term dates, coursework deadlines, examination entries, parents' evenings, exhibitions and school music and drama productions. In addition, direct contact could be made with school staff via e-mail, with the possibility of video conferencing for those parents or guardians who were unable to physically visit the school for whatever reason."
And what about the future for services like Kingswood?  Andrew Fawcett told us what was up next: "There was a very small budget for this – by squeezing things, as we tend to do, we managed to deliver it to 200 homes, to get a reasonable feel for the potential.  This stage of the trial finishes in June – our intention is to look for additional sources of funding."
Kingswood High and Kingston Communications are compiling information on the before and after effects of the KBTV initiative – hopefully benefits of this sort of programme will inspire more partnership and research in the educational possibilities of our broadband future.