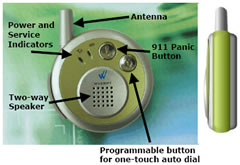 Wherify Wireless, based in Redwood Shores California, have announced what they claim is the smallest device to contain a GPS receiver and CDMA mobile phone. It has been specifically designed to help locate people carrying it. It is very compact (48mm x 12mm), light (45 grams) and simple to use, with only two buttons to operate. One button directly alerts the emergency services, 911, giving them the location within a few feet and ability to have a conversation with owner. The second button carries out the same function but to a user programmable phone number.
Authorised parties can find out the location of the device either using a Web browser, which will show the location of the device within a number of feet, or over a phone with an operator. Both methods take around a minute.
The rather grandly named GPS Universal Locator is rechargeable and power should last around 70 hours or 40 locates. To conserve battery, the GPS is not enabled until a location query is activated.
Wherify expect it to be available to consumers late second quarter 2004 and it is expected to retail for less than $150 with month subscription to the service at $19-$44 a month.
A similar service, mapAmobile, was launched in the UK in August 2003, but mapAmobile worked with a standard mobile phone, rather than needing a separate device.
Wherify Wireless, GPS Universal Locator, spec sheet