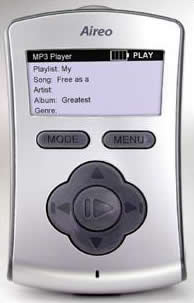 Ever since the rise of the portable digital music player people have been discussing the possibilities of connecting them wirelessly rather than via a cable, either for loading content, or playing it back. After two years development SoniqCast has now released the Element Aireo, the first product to come to market that includes 802.11b (WiFi) support.
The WiFi connection enables the synchronisation of music-file contents with those on the PC's hard drive, using their SoniqSync software. Synchronisation is either on demand or based on a user-defined schedule. Looking to the future SoniqCast are expecting to enable content download directly from the Internet via Hotspots and peer-to-peer content download from one Aireo™ player to another.
The built in FM transmitter (FM TX) can be used for wireless playback of music in cars or at home. While not a unique idea, this is achievable with an iPod by adding a third party extra to it, it is the first time it has been included.
This initial release has a 1.5Gb hard drive capacity built in, which while it hold a considerable amount of music, may appear to consumers to be dwarfed by the 40Gb storage offered on some other devices. The physical size of drive, could in a later product, be replaced by a 4Gb drive. Additional storage can be enhanced by up to another 1Gb by inserting an SD memory card.
The device won the "Best of CES Portable Audio" at the 2004 International Consumer Electronics Show (CES) in Las Vegas.
While we welcome this type of device, we feel the wireless features will not remain unique for very long and our concern would be the devices battery life – using WiFi consumes a far amount of power, potentially leading to short periods between charging, eliminating the benefits of it being wireless.
It is expect to go on sale for $300 within the next month.