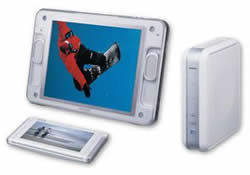 Among the many announcements at CES was an interesting portable 12″ LCD TV screen from Sony, that can be carried around a house and have various content delivered to it from its base station, enabling the showing of video from many different sources, as well as playing music, viewing photos and browsing the Internet. Sony calls it LocationFree™.
It is based on a similar device released just in Japan called AirTact and a few TVs. Kunitake Ando, president and group COO at Sony Corp has realised the potential to freeing the screen. At Sony "Dream World" held in Paris, Sept. 2003 was quoted that transforming traditional TVs to "location-free" TV or displays could take the 125 million TV sets sold worldwide and "easily increased to four or five times that number."
The basestation can have many different sources plugged in to it, including; video, be that TV ariel/cable, DVD, VCR, DV video camera; audio sources; other media files stored on computers via Ethernet. There is a wide selection for possible connections to the network, wirelessly (802.11a, 802.11b (WiFi), or 802.11g) or an Ethernet cable. The content is delivered to the remote, battery-powered 12.1″ LCD touch screen, which can also run from a main source. There are also plans for a pocket sized 5.8″ version. The viewer is free to move around the house while continuing to access the different media sources, selecting them by touching the screen. As yet, Sony has not discussed battery life.
For the first time Sony have brought technology from their high-end TV sets to the LCD display including 3D Y/C separation circuitry for clear, vivid picture and colour blur reduction; angled line correction circuitry for smoothing out jagged lines; motion adaptive I/P conversion circuitry for improving fast moving action scenes; and digital audio amplifier circuitry for crisp sound and minimized distortion.
It looks like Sony have carried out considerable research to find what function user may want. The five pounds screen itself has a lot of connectors includes an Ethernet port, a USB port, Memory Stick media slot, headphone jack, keyboard port and an AV input for connecting to a camcorder. Useful features include viewers being able to "freeze" and save a TV scene by using the "capture" button on the remote screen – saving a mad scrabble for pen and paper where information appears on the TV.  Prints of the images or homepage data, e-mail attachments and digital photos can also be made to USB printers connected to the base-station.
While using the screen to browse the Internet, the viewer will be able to watch their choice of TV/video source displayed in a Picture in Picture (PiP) window, but given the screen is 800×600, we imaging this might not be used much beyond demos to friends.
Sony has omitted to give any precise dates for the shipping of Location Free, preferring to say it would be "Later in the year".
Sony say one of the benefits of the screen being an IP device is that access your media does not need to be restricted just to your own home network. By taking the screen with you on your travels, you can access the self same content through any IP connection, which are increasingly found around the world in offices and hotel rooms. One example cited gives an interesting twist to the product – a person on the road, unable to attend their child's birthday, has an opportunity to tune in, watching the live video being shot on a camcorder plugged in to the basestation at home. We believe application such as this, which can be used to bring together families distributed over great distances, will be a major driver in purchasing products.
We are excited about this step of remote access to your home media, firewall configuration allowing of course. It could be an interesting early step into a future where your home media server becomes the focal point of your media ownership, with your various remote IP devices having access, via your home server.
At this point it is worth highlighting that hard facts about which protocols are used to transfer content back and forth between base-station and screen. It would be a great shame if the protocols were proprietary. We think there is real potential in this device, and by using open standards; there could be a real potential for a product like this to become a standard for interfacing analog media to an IP device. There is a real need for a device like it and it appears that Mr Ando at Sony Corp is trying to fill it.