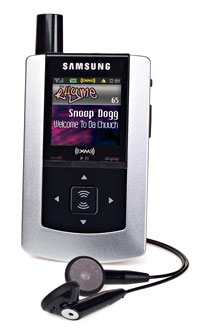 Announced at the CES 2006 show earlier this month, the Samsung Helix XM2Go has now appeared for pre-orders on Amazon.com (US).
There's been quite a lot of excitement about the Helix, which comes with an alluring feature set, offering a portable satellite receiver and mp3 player/recorder in a highly pocketable package.
The big news about this unit is its ability to receive XM satellite radio transmissions, letting users combine live XM radio with their personal digital music collections (MP3s and WMA).
XM Satellite Radio may not mean a lot over here in Europe-land, but in America it's the country's most popular satellite radio service, offering 160 digital channels, including news, sports, talk and entertainment, traffic & weather with "the deepest playlist in the industry" covering over 2 million titles.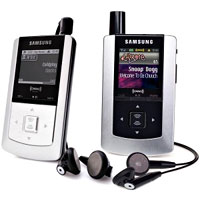 The good news is that the service is commercial free – the bad news is that it's a subscription service, with plans starting at $12.95 a week.
The Samsung Helix XM2Go lets users record up to 50 hours of broadcast on its built-in flash memory, with users able to build their own playlists on the device, mixing XM radio content with their own digital music.
A handy built-in memory buffer lets listeners save an entire XM radio song even after the song has already played halfway through, and a built-in FM transmitter means that music can be beamed to any FM radio frequency, making it easy to listen to XM content on any home or car stereos.
The Helix offers a neat TuneSelect feature, which alerts users when one of their favourite artists or songs is being played on an XM channel and there's also built-in support for the XM + Napster music service.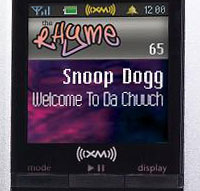 This lets users 'tag' a song they hear on the XM radio, and then buy and download the tune song via Napster.
The attractive looking device measures a cutesy 3.7 x 2.2 x 0.6 inches, weighs in at a lightweight 4.5 ounces, with a large 2.2 inch 180 x 180 TFT colour screen dominating the front of the unit.
It's not cheap at $399.99, (~e335, ~£229) but that's the sort of price early adopters can expect to pay for such a cutting edge gizmo.
Shipping is expected in early April, with the optional YA-CP100 car kit retailing for $69.99 (~e58, ~£40).