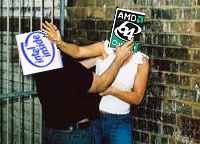 European Commission heavies made an unscheduled visit to Intel offices in Europe today as the chip maker's offices were raided in connection with suspected anti-trust violations.
The European antitrust regulators started booting in doors two weeks after rival U.S. chip-maker Advanced Micro Devices filed a lawsuit claiming Intel used its market dominance to coerce computer makers away from using their AMD chips.
European Commission spokesman Jonathan Todd explained, 'Directorate General Competition officials, accompanied by officials from national competition authorities, are conducting inspections of several premises of Intel in Europe as well as a number of IT firms manufacturing or selling computers."
A statement from the European Union head office added, "Investigations are being carried out in the framework of an ongoing competition case."
Intel spokesman Chuck Malloy confirmed that the raids took place, adding that his company was cooperating fully while insisting that it was "all a stitch up and society's to blame" (or words to that effect).
The EU has been investigating claims about Intel using unfair business practices to persuade clients to buy its chips to the exclusion of rivals' chips for some time.
An initial investigation was demanded by Advanced Micro Devices several years ago, but in 2002 EU antitrust regulators reached a preliminary conclusion that there was insufficient evidence to bring any charges.
AMD kept up the pressure, nagging regulators into looking into Intel's business practices again, with the commission sending out formal notices to France, the Netherlands, Finland, Sweden, Italy and Germany last year.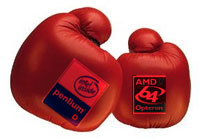 These requested information on government procurement tenders for computers containing requirements that they specify Intel chips or request a chip speed exclusive to Intel.
Late last month, AMD sued Intel for billions of dollars in a Delaware federal court, insisting that Intel bullied 38 computer companies into buying Intel chips.
Intel told them to stick their allegations when their chips don't shine, suggesting that they were just whining away like a big girl because of their secondary market position (we're paraphrasing slightly here).
Much as we enjoy corporate fisticuffs, we reckon that the issue would be best resolved without assisting zillions of smarmy lawyers to get even richer.
We reckon a playground fight would be far more fun.
Fight Fight!