We really, really wanted to get along to the first HomeCamp event – which covered the now-realistic world of automating your home.
Due to a change of circumstances on our side, we couldn't make it. Much to our relief IBM Master Inventor and Distinguished Engineer Dr Andy Stanford-Clark (who you may know from his house that Twitters) said he'd cover it for Digital-Lifestyles' readers. Thanks Andy!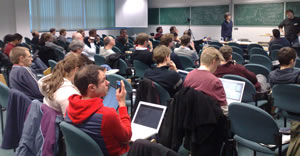 A couple of Saturdays ago I went to the first "HomeCamp," at Imperial College in London.
HomeCamp was an "unconference" (a conference where the participants decide what form and content it should have, on the day) to look at areas of home energy monitoring and home automation.