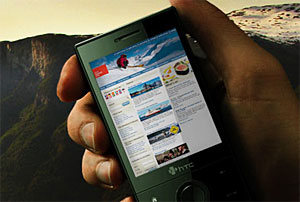 Handset browser Opera Mobile has just hit version 9.7 claiming that its superfast rendering will 'leave rivals in the dust' boasting added performance, Opera Turbo and Opera Widgets.
The latest beta update features the Opera Turbo functionality that offers server-side rendering backed by the Opera Presto 2.2 rendering engine, promising downloads speedier than Billy Whizz on a sugar rush. On roller skates.
Opera use compression technology to speed up data transfer and to reduce the amount of data that needs to be downloaded by up to 80 percent, which they reckon provides a browsing experience that is "even faster than the most advanced 3G phones."
Battling off the iPhone's Safari to grab the title of the world's most popular mobile browser, Opera CEO Jon von Tetzchner was throwing gauntlets all over the virtual floor as he bigged up the new Opera Mobile 9.7 browser:
"There are other mobile browsers on the market that claim to be faster and more Web site-compatible on Windows-based phones, but I challenge users to take Opera Mobile for a test drive and discover a new standard for speed and compatibility."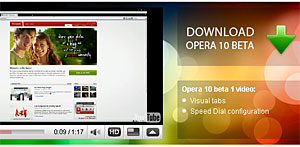 Claiming that their new browser will leave "sluggish" and "painfully slow" browsers wallowing in the dust, Jon von went on to say, "It is our belief in 'One Web' that challenges us to develop technology such as Opera Turbo. Not everyone owns a 3G phone and not everyone needs to."
"This is why Opera's focus is on improving our browser so that your EDGE network feels like you're surfing 3G style or better," he added.