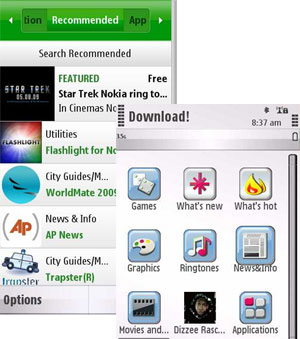 After the runaway success of Apple's AppStore for the iPhone, every mobile OS has been falling over itself to get a piece of action, with the Android Market and Windows Media Marketplace already up and running.
Now it's the turn of the 50 million Nokia phone owners to join in the downloading scrum, with the Ovi Store opening for business in Australia, Singapore, Spain, Italy, Germany, Russia, Ireland and the UK (the U.S won't have access to the Ovi Store until later this year)
Offering the usual mix of essential, useful, creative, productive and plain rubbish apps for Nokia devices, the service is compatible with more than fifty phones.
Just like every other online app store, the Ovi Store lets users sort applications by popularity, ranking, or free/paid prices, with general categories for browsing like business, entertainment, music, news and info, games etc.
Unlike Apple's ruddy annoying AppStore (which forces PC users to download and install a copy of iTunes before you can view the store content), Nokia sensibly allows full browsing of the store on both the desktop and Nokia phones.
A Monolithic Milestone, no less
Inhaling deeply on a cheroot packed with pure hyperbole, Nokia's PR team were ready and willing to big up the launch:
"Today is one of those monolithic milestones for Nokia and the advancement of mobiles, as Ovi Store has officially gone live. It's a moment that many believe is set to spark a rapid evolution in the way we all use our mobile devices – exploring the depths of what your device is capable will be far easier with Ovi Store now primed to be the one-stop hub to let you soak up bite-size bits of free and paid-for content and apps."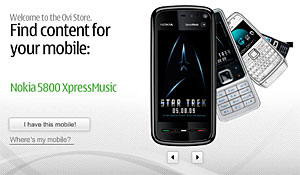 'A complete disaster'
Sadly, it seems that Nokia woefully underestimated demand, with the service grinding to such a pitiful crawl that some sites were declaring the launch to be a complete disaster.
The Allaboutsymbian site wasn't too impressed either, complaining about erratic service, connection problems and poor usability.
With tempers rising from frustrated users, the official Ovi blog was forced to make a statement about the sluggish performance
"Shortly after launching the Ovi Store at 2 am ET, we began experiencing extraordinarily high spikes of traffic that resulted in some performance issues for users accessing store.ovi.com and store.ovi.mobi. We immediately began to address this issue by adding servers, which resulted in intermittent performance improvements. We apologize for any inconvenience this may have caused Ovi Store users and encourage you to continue giving us feedback as we develop the service further."
If you're using a Nokia phone, be sure to post up your experiences with the store. Has it been good for you?