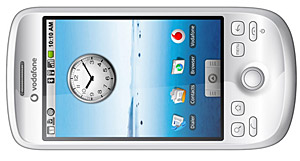 The long awaited follow up to the T-Mobile G1 'Googlephone,' the HTC Magic has now gone up for pre-order on Vodafone UK's site.
The second Android-based phone in the known universe, the Magic dispenses with the slide out QWERTY keyboard of its predecessor, serving up a slimmer, sleeker package which Vodafone will sets shoppers pockets a-tingling.
If course, the joy of a slimmer handset comes with the pain of having to thump away at an onscreen keyboard, and we've been hearing a few mixed reports about the new Android virtual keyboard.
However, if you love the feel of fingers against cold, unyielding glass, then this could well be the device for you as the rest of the specs come well up to scratch with the 117.7 x 55 x 13.7mm case packing a feast o'functions.
The handset comes with GPS, Bluetooth, accelerometer, trackball, 3.2 megapixel camera with auto focus, digital compass, 320 x 480 pixels 3.2″ TFT capacitive touchscreen powered along by a Li-Ion 1340 mAh battery.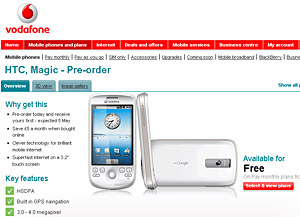 Storage comes in the shape of 192 MB RAM, 512 MB ROM plus a handy microSD card slot.
If we weren't already depositing vast reservoirs of pre-release dribble for the Palm Pre, the HTC would definitely be on our short list as it looks to be a snappy piece of kit and a decent challenger to the all-conquering you-know-what phone.
Vodafone are expected to start shipping the Magic from the 5th of May, with prices starting from free, depending on the length of time you give them your soul.