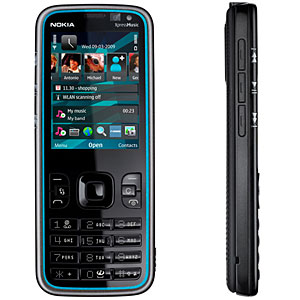 The new phones just keep on coming as the Mobile World Congress show in Barcelona looms ever-closer, and the latest update to hit t'Internet is a fact'n'stat assault by Nokia's new Nokia's 5630 XpressMusic candybar-style handset.
Powered by the Symbian S60 OS and serving up nippy HSDPA and HSUPA connectivity, it's rather a pleasing slimline slab of shiny black plastic with a natty coloured trim around the outside.
Primed to be stocked up with Symbian apps, widgets and services like Ovi Share and Nokia Messaging, the 12mm slim, 83g handset lobs N-Gage gaming into the mix, making it only the second time Nokia's premium gaming platform has been shunted on to a non Nseries device.
The interface has enjoyed a delivery from the eye candy truck too, with a new scrolling Contacts Bar giving it a bit of the ol' shimmy action for your visual delectation.
Camera-wise, Nokia have kitted out the 5630 with a 3.2 megapixel snapper with dual-LED flash and 4x zoom. Naturally, video recording is on board and both pics and movies an be uploaded and shared online via Flickr and Share on Ovi.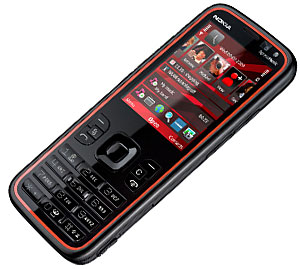 The Nokia comes with a bundled 4GB microSD card ready and waiting for your music files, and there's a standard 3.5-mm headphone jack for plugging in the ear buds or cans of your choice.
Dedicated audio keys and Nokia's innovative "say and play" feature underlines the multimedia credentials of the handset – this piece of electronic wizardry lets you speak the name of the artist or track and the phone will automatically play it. Don't try this when you're drunk though.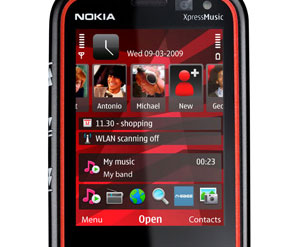 So, it's another well-featured, if unspectacular, all-rounder from Nokia, with a pretty decent price of €200 pre-tax, pre-subsidy. It should be parading onto the shop shelves some time in Q2.