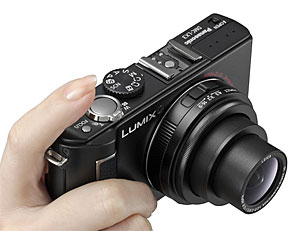 Panasonic's flagship digital compact for mustard-keen photographers and compulsive shutter clickers, the Lumix DMC-LX3 offers up a tempting package with an 10.1 Megapixel resolution sensor, flash hotshoe, full auto and manual controls and an optically stabilised, bright 2.5x optical wide angle zoom with the delicious LEICA name.
The LX3 improves on its predecessor by extending the focal coverage to an impressively wide 24mm coverage, giving the lens a zoom range of 24mm-60mm – not particularly good for twitchers, sports aficionados and fans of Small Things That Shuffle Around Miles From The Camera, but great for street shooters and landscape photographers.
The lens is pleasingly fast too, boasting a bright maximum aperture of f2.0-2.8, giving it at least a stop advantage over most of its rivals and delivering improved performance in low light.
The Lumix LX3 packs a mighty array of manual controls, offering full control over aperture, shutter and focus settings, backed by RAW shooting and HD movie recording in the 720p format.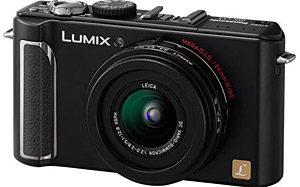 The 3 inch 460k LCD screen has been beefed up to a 460k (480×320 pixels) jobbie in a 3:2 ratio, which means it can display the results of the camera's 4:3, 3:3 or 16:9 shooting modes.
With HD movie recording and RAW recording also board, the LX3 looks to be one of the highest spec'd machines on the market and in part two of the review we take a gander at the look and feel of the camera.
Part two of the Lumix LX3 review is far more detailed, getting into the guts of why we like the Lumix LX3 and what it's like to use.