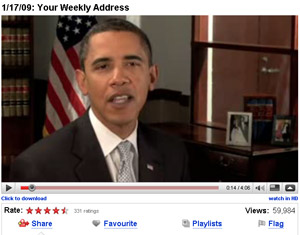 YouTube has quietly begun to offer downloadable versions of videos hosted on its site.
It's off to a rather limited start, with the selection appearing to be currently limited to videos of president elect President Barack Obama.
YouTube are certainly downplaying it at he moment, with only a discrete "Click to Download" link link lurking underneath the play button of the main video window.
The video is offered as an H.264 file, with a bit rate of 460Kb/sec which makes it a higher quality recording than the standard 200Kb/sec YouTube videos, although not as good as the new HD streams, which serve up 900Kb/sec.
With YouTube owners Google already fighting off lawsuits left, right and centre from companies who aren't pleased to find their (allegedly) copyright protected material being shunted up for viewing, the battle could really step up a gear if uploaders start offering downloadable versions of the videos.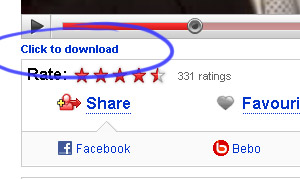 With punters hungry to get fill up their iPods and PSPs with downloadable versions of YouTube vids, a whole industry of third party solutions has sprung up to get around the copying restrictions with variable results, such as the TechCrunch YouTube Video Download Tool
Google yet to comment on its plans for the video downloads.