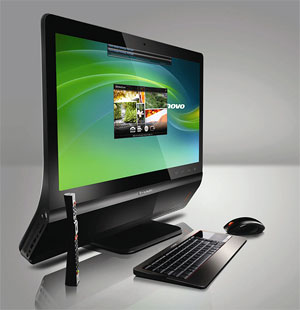 Ahead of this week's Consumer Electronics Show (CES) trade show in Las Vegas, Lenova has been dishing out info on their forthcoming OPC ranges.
Looking smoother than Jean Luc Picard's pate, their new IdeaCentre A600 all-in-one desktop PC packs a ton of functionality into a very stylish package.
Dominated by a near-frameless 21-inch 16:9 (1,920-by 1,080 resolution ) display, the A600 sports all the features to push your multimedia buttons, boasting touch-sensitive controls, Blu-ray player, an ATSC/HDTV tuner and a Dolby-certified "Tru-Hi-Def" logo.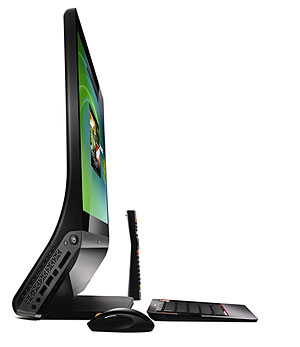 Powered by a dual-core Core 2 Duo processor and squeezed into a slim 27mm chassis, the A600 needs just a single power cord to get up and running, and comes with a wireless keyboard, mouse, and wireless networking. There's also VeriFace security software onboard for biometric logins with the built in webcam.
The really clever stuff, however, is all going on in the controller department, with Lenovo's 'Motion Drive Remote' managing to function as a standard multimedia remote, an air mouse, a Wiimote-like motion-sensitive gaming device and (rather curiously) as a VOIP handset.
Our verdict
Set to shift for a reasonable-sounding $999, the IdeaCentre A600 looks to be a very attractive option for folks looking for a media PC that won't hog too much space in the living room and look good in the bargain. The combined phone and Wii-like gaming controller is an intriguing touch that opens up all sorts of possibilities and certainly makes it stand out from the crowd.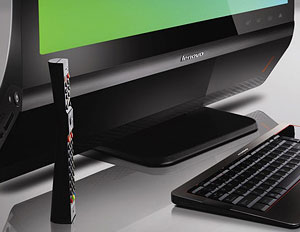 Feature list
21.5″ Display, 1920×1080 pixels, 16:9 ratio
Digital TV Tuner (Media Centre compatible)
Motion Drive Remote with an accelerometer.
Intel Core Duo
Up to 4GB DDR3
Up to 1TB of storage
6x USB 2.0
1x Firewire (1394)
Up to 2MP cam
From $999